INDIE Live Expo 2020 program of events announced
Video messages from Shuhei Yoshida and Jenova Chen, news on the latest Inti Creates games, and more.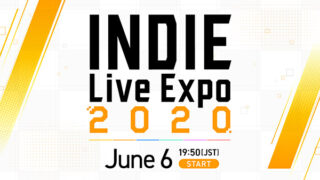 Ryu's Office has announced the program of events for independent games live stream event INDIE Live Expo 2020, which will broadcast from Japan on June 6 from 20:00 to 23:00 JST.
Get the details below.
The presenters, speakers, and guests of each language channel will be doing a 10 minute countdown before the start of the program at 20:00 JST.

Tune in to INDIE Live Expo with indie game lovers all over the world!

Japanese
Chinese
English
Presenters

Presenter: Hisanori Yoshida
Speaker: Shunji Mizutani (Playism)
Guest: waiwai

Presenter: Famitsu & Dengeki Games Weibo Staff
Speaker: Seigai Kou (Flyhigh Works CEO)

Presenter: Atsugiri Jason
Guest: J-mon

Where to Watch

Bilibili Official Support Stream

Simulcasts Welcome

We happily welcome simulcasts and commentaries of the Indie Live Expo 2020, in any country or region in the world. In addition to our own official channels, more and more streamers and game media have been announcing simulcasts of their own!

Feel free to choose any channel or platform you like to view the live-stream.

And more!

New Creator Messages

Besides Mr. ZUN and Mr. Toby Fox, more special messages from famous creators have been announced! There will be video messages from Mr. Shuhei Yoshida, head of indies initiative Sony Interactive Entertainment, and Mr. Jenova Chen, co-founder and creative director of thatgamecompany.

Presentations for over 150 indie games!

The program will feature info on indie games from around the world, including both the latest and as-of-yet unreleased titles. Also included will be a wide range of original content such as "Indie Studios Around the World", featuring a lecture from a game market expert on the global indie game industry, introductions of companies and organizations helping to support indie creators, and more.

The program is as follows:

Indie Live (mini) – A special live concert performance by Dainashi (rock drummer). Featuring an original medley of masterpieces from ​Undertale​ and ​Touhou Project.
Indie Live Premiere – Information on some of the latest indie titles.
Indie Picks – Introductions of specially selected indie titles.
Indie Waves – A collective introduction of a slew of indie titles.
Indie Studios Around the World – Informative lecture on the indie game market by Masatoshi Tokuoka.This first lecture (in a series) focuses on the Polish indie game industry.
Fly High to the World! Doujin Game! – Intros to some of the most popular doujin games on DLsite. Presented by EISYS, Inc.
Ground Zero for Japanese Indies! What is "Game Market"? – Introduction of Game Market and the latest board games. Presented by ArcLight, Inc.
Made With Unity – Introductions of development studios and new games. Presented by Unity Technologies Japan, G.K.
Inti Creates: Info on Some of the Latest Games – Information on a variety of new games. Presented by Inti Creates Co., Ltd.
Messages from Creators and Companies – Messages from creators and companies to indie game lovers throughout the world.
Eva Game Ogiri Contest Outline – Detailed outline of the ​Evangelion​-themed mini-game contest.

Sponsors and Contributors

Sponsors

Contributors