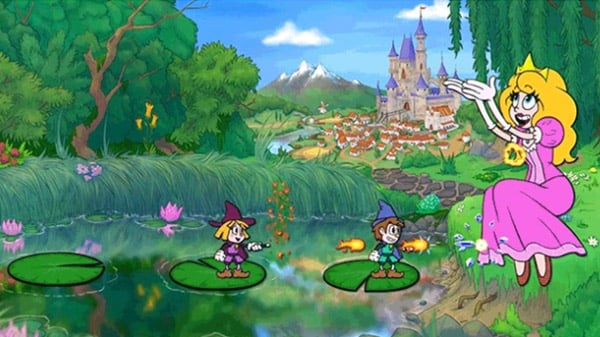 Xixo Game Studio has relaunched the Kickstarter campaign for Cuphead-like 2D platformer Enchanted Portals. It is seeking €120,000 in funding for release across PlayStation 4, Switch, and PC via Steam in October 2021.
Here is an overview of the game, via the Kickstarter campaign:
About

This dimension and that one: they seem to flow into one another, parts of the whole that we call reality, yet there is a way to get stuck between them – and Bobby and Penny have found it. A couple of rookie magicians, they have just unwittingly entered into the adventure of their lives, and there is no telling where it will take them. Now, it is up to you to help guide them back to their own dimension, exploring a variety of wonderful worlds and fighting their way through an ensemble of wacky yet powerful bosses while trying to get the Magic Book back in their hands.

Featuring music sure to get stuck in your head, a charming old-timey art-style, and comedy from beginning to end, Enchanted Portals is a co-op 2D platformer at its heart – but a platformer in which there is always something different and exciting waiting around the corner. Whether you are playing alone or with a friend, the magic is nonstop in this game, and the action is both fast-paced and whimsical.

Key Features

Enchanted is an intense 2d platformer game with battles versus crazy bosses.

Cooperative and solo modes.
A collection of challenging platform stages, set in a variety of worlds across dimensions.
Thrilling boss battles: each featuring a colorful unique setting and multiple different phases to go through.
A powerful arsenal of spells and moves: fire, ice, wind, and arcane spells ready to use from the very beginning, with powerful super-spells, a handy double-jump for extra air control, a magic bubble that blocks any attack, and the ability to fly with your broom and swim underwater.
Players can be affected by a variety of status effects: slow movement, jump restriction, inability to attack… all of which will pose an extra challenge and spice up the gameplay.
Adaptive soundtrack that follows the player's actions: hear the music seamlessly morph and adapt to whatever is happening on screen, and listen to the orchestra play some stylish chords every time you land a powerful hit!
If you missed it, watch the most recent trailer here.