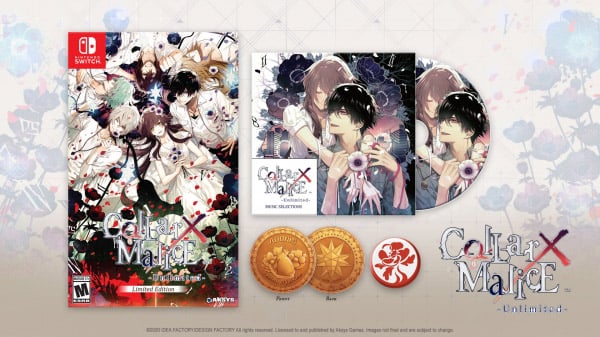 Aksys Games has announced a limited edition for the western release of Collar X Malice: Unlimited for Switch, which is due out in August.
While the standard edition will cost $39.99, the limited edition will cost $69.99 and include an exclusive soundtrack with 30 music tracks from Collar X Malice and Collar X Malice: Unlimited, a one-inch Adonis organization pin, and a collectible X-Day coin.
Here is an overview of the game, via Aksys Games:
About

Collar X Malice: Unlimited is the follow up to the popular suspense-filled otome game (interactive fiction) Collar X Malice, in which a young police officer finds herself entangled with a brutal terrorist organization.

Return to the thrilling, deadly world of Collar X Malice with exclusive Interlude, After Story, and Adonis play modes. Revisit the characters and events of the original game as you build new relationships and pick up the pieces in the aftermath of the first X-Day Incident. Then buckle up for an entirely new investigatory experience as you search for traitors hidden deep within the shadowy Adonis organization. It's a desperate race against time before the next cataclysmic X-Day arrives!

Key Features

Explore New Paths and Mysteries! Pursue missed opportunities with the original cast, then discover completely original characters and events.
Investigate Challenging Cases! Assemble clues and profile individuals in different times and settings to piece together the complete story.
Fresh Characters and Options! Take on the ultimate challenge of the Adonis storyline, designed especially for multiple replays! The clock is ticking, and no single play-through will reveal all your foes.
View a new set of screenshots at the gallery.