Creator of survival horror game pitch Year of the Ladybug in talks with "experienced producer from Japan"
Pitch first shared in September 2016.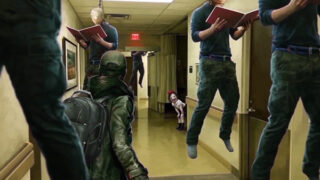 Back in September 2016, Ontario-based artist Dave Kang released a pitch for a Silent Hill-style survival horror game called Year of the Ladybug. Today, Kang announced he is in talks with "an experienced producer from Japan" to make a game.
"Today, I am delighted to let you know that I am currently in talks with an experienced producer from Japan," Kang said in a video update reflecting on the history of Year of the Ladybug. "I was approached late last year, and I said yes, of course. We don't know if the game is going to be called 'Year of the Ladybug' or not, but one thing is for sure: there will be a game, and I am insanely happy to be a part of it. I'm so sorry I can't give you more details at the moment, naturally it's too early to share things, but I promise you I will keep you updated."
In a followup tweet, Kang clarified that the game is "not locked down," but "the producer is currently searching for business possibilities and I'm a part of it."
According to the pitch, the story of Year of the Ladybug is set in 2022 and follows protagonist James Hsieh, a mass murderer known as "The Ladybug Killer." He awakens in a ruined hospital to discover he is locked down in a quarantined zone with other survivors. As he fights off monsters in a struggle to escape, James slowly uncovers the "unthinkable root" of this evil.
Pitched as a third-person perspective game, the mechanics are said to be based on a unique melee and combo system, where attacks can be unleashed in various directions and configurations, and each weapon provides distinctive fighting techniques as multiple skills unlock and evolve. While there will be guns, they will be hard to come by and ammo is limited. But rather than run-and-hide-type gameplay, it is pushing to go in the other direction. The game also intends to provide "unsettling and formidable" puzzles designed around the storytelling.
Watch today's video update and the September 2016 pitch below.
The Journey of Year of the Ladybug (03/26/20)
Year of the Ladybug Pitch (09/25/16)