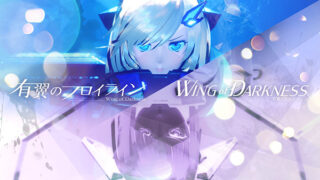 Publisher Unties and developer Production Exabilities have delayed mech shooter Wing of Darkness from its previously planned 2019 release window to Q1 2020 for PC, as well as released the opening movie featuring theme song "Eisen Flugel" sung by Klara Ernst voice actor Kiyono Yasuno and composed by Junta (function 9). A release window for the PlayStation 4 version has yet to be announced.
The game's Steam page was also launched. Here is its description:
About

The young girls who fight the Blanker that swarm the skies are known as "Fraulein." These girls wear wings on their backs, becoming the weapon that faces the darkness for their sake, for their friend's sake, and to protect those that cannot protect themselves.

This game is divided into two parts. The first part is an exhilarating, action-packed shooting game featuring the girls and their battles. The second part is made up of beautiful cutscenes featuring their everyday life and their struggle to overcome their differences. Experience the Fraulein from two contrasting aspects!

Action Parts
An exciting breath of fresh air.

Defeat powerful enemies within a beautiful, limitless sky.
Utilizing your dynamic arsenal, take down your enemies in the broad, open sky.
Also enjoy music tailored exclusively for this game, as well as realistic conversations between the two Fraulein as you fight!

Cutscene Parts
Larger-than-life depictions of the girls on the battlefield.

A story about two Fraulein, each with completely opposite personalities and circumstances.
The cutscenes feature beautiful 3D graphics and amazing voice actors.
The two girls who became Fraulein—Klara and Erika—come from very different backgrounds. Although they fight often, they come to influence each other and grow from it.

Characters

Klara Ernst (voiced by Kiyono Yasuno) – An eighteen-year-old girl who discovered her Fraulein aptitude through very strange circumstances. Raised in a backwater town near the Commonwealth Federation South Base, she is the eldest daughter of a large farming family. Very kind and collected, she doesn't sweat the small stuff. She likes beer and baths.
Erika Loerzer (voiced by Chihira Mochida) – A seventeen-year-old girl who graduated Officer School early and became a Fraulein. Growing up in the Commonwealth Federation capital city, she is the youngest of three in a family that has been in the military for generations. Although she does everything in excellence, she is strict and honest with those around her as well as with herself. She likes opera and coffee.
Watch the opening movie below. Visit the official website here.