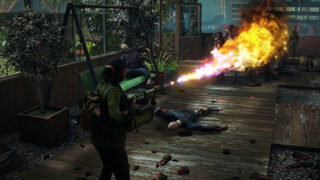 Publisher Focus Home Interactive and developer Saber Interactive have released the "Kill it with Fire" update for World War Z.
The "Kill It With Fire" update features the following:
Two new Player-versus-Enemy missions:

"Dead in the Water" – Your survivors must execute a new escape plan after being stranded on New York's Hudson River.
"Resurrection" – Your team deep ventures into the dark tunnels below Moscow.

New flamethrower weapon
Halloween trinket
Ability to prestige rank for special rewards
Additionally, Saber Interactive has released the World War Z Season Pass, which bundles Season 1 and 2's current and upcoming premium DLC for $29.99. It includes:
The previously released Lobo and Biohazard downloadable content packs (available now).
A new set-piece episode and location featuring three Player-versus-Enemy missions (due out in spring 2020).
Several new weapon and character packs throughout the coming months.
New free content additions, including "Horde Mode Z," Player-versus-Enemy cross-play support, and a special zombie type, are also expected to arrive later this year.
World War Z is available now for PlayStation 4, Xbox One, and PC.
Watch a new trailer below.