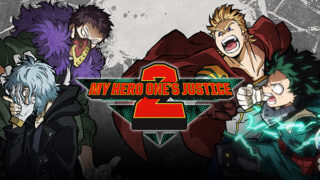 Bandai Namco has released the first full-length trailer for My Hero One's Justice 2, confirming several new playable characters.
New playable characters featured in the trailer include:
Mirio Togata
Nejire Hado
Tamaki Amajiki
Mina Ashido
Minoru Mineta
Kai Chisaki (previously confirmed)
And returning characters featured include:
Izuku Midoriya (Shoot Style)
Katsuki Bakugo
Shoto Todoroki
Ochaco Uraraka
Eijiro Kirishima
Inasa Yoarashi
Endeavor
Denki Kaminari
Fumikage Tokoyami
Kyoka Jiro
Momo Yaoyorozu
Dabi
Himiko Toga
Tomura Shigaraki
Additionally, GameSpot has posted a 15-minute gameplay video.
My Hero One's Justice 2 is due out worldwide for PlayStation 4, Xbox One, Switch, and PC in 2020.
Watch the trailer and gameplay below. View the game's key artwork and box art at the gallery.
Trailer
With English Subtitles
Without English Subtitles
Gameplay