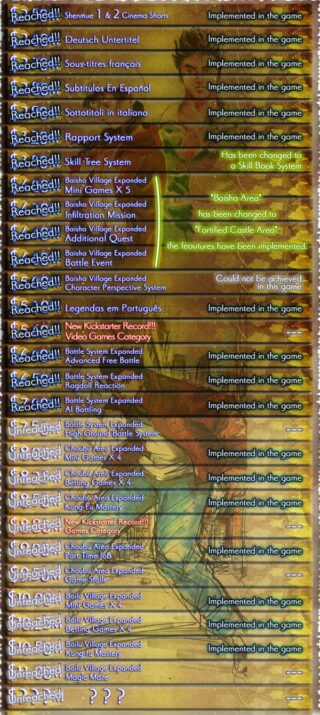 Ys Net has posted Kickstarter update for Shenmue III addressing the game's recently announced Epic Games Store exclusivity and what that means for backers who were promised Steam keys, details on stretch goal implementations into the game, and details on non-stretch goal elements that made it into the game.
Get the full update below.
Hello Everyone,

Regarding the recently announced Epic Games Store exclusive, all of us here at Ys Net, Deep Silver, and Epic are taking the matter with utmost concern and would like to clarify the circumstances leading to the decision and offer backers options for moving forward.

As noted in the updates and survey at launch, we had originally planned for PC distribution through Steam. Taking publishing and sales considerations into account, Ys Net and Deep Silver agreed to our partnership with Epic Games Store on PC version distribution. As a publishing partner, Deep Silver has greatly contributed not only to sales and marketing, but to scaling up the game so there is more Shenmue III to begin with. Also, Epic Games has been with us from the start of the project when we adopted Unreal Engine 4 for development, and have given us their support throughout the development process.

In response to backers who have requested Steam keys for their rewards, we discussed offering the keys on the day of release. However, coordination with the sales policies of the involved companies was untenable, and as a result we are not able to make a day one distribution option for Steam keys available.

That we are not able to offer Steam keys for Kickstarter rewards at the time of the game's release is a great disappointed and inconvenience for those backers who were expecting to receive them. We deeply apologize for the unrest caused by the announcement.

Response Policy

The team would like to offer the following:

Version Availability

a. PC Physical: Package (Disc) + EGS Key
b. PC Digital: EGS Key
c. PS4 Physical: Package (Disc)
d. PS4 Digital: PSN Voucher Code

*If selecting either the PC Physical or PC Digital version, an option to also receive a Steam key one year later will be available. Backers must manually select this option in the survey to receive the Steam key.

**If you had previously selected PC and want to change to PS4 or vice-versa, you may do so.

■ Survey Implementation

We are currently working on the necessary changes to the backer survey system. We ask for your patience as there will be a short wait while the preparations are made. Once the survey changes have been implemented, there will be an announcement here in the updates with details and notice of the survey response period. (Changes to your shipping address may still be made through the backer survey up until shipping begins.)

■ Concerning Refunds

Along with Deep Silver and Epic Games, we have agreed that should the above proposal not be acceptable to backers, refund requests will be honored.

Details concerning the refund request process will be announced in a following update. We ask for your patience until that time.

*In the case rewards within your reward tier, such as in-game content, have already been created and implemented, a full refund may not be possible.

■ PS4 Region Selection

PS4 regions are automatically set based on the country information answered the through your backer survey. However, there will be an option through the backer survey that will allow you to change your PS4 region during the Survey Response Period. If you would like to change your PS4 region, you will be able to select from four regions: US, EU, Japan and Asia. An announcement will be made when the option is added to the survey.

SIEE: Europe / Middle East / Africa / Oceania
SIEA: North America / Middle America / South America
SIE Japan: Japan
SIE Asia: Asia (excl. Mainland China and Japan)

■ PC Physical version

The PC Physical version will be delivered on disk. However, the disk will contain the Epic Games Store installer and not the actual game data.

*Please note, if your region selection differs from the PS4 system region or the console setting, PlayStation™Network online services or DLC may not function properly.

**Also, please be aware that a PS4 "cross region" selection may cause a shipping delay.

■ About Stretch Goals

We have provided below an explanation on differences between the stretch goals that were promised during the campaign and the actual elements implemented in the final version.

Stretch Goals Reached and Final Implementation

Some stretch goals that were reached during the campaign were not able to be implemented. There were also stretch goals not reached that were able to be implemented. Development began in line with the stretch goal content, but with the addition of sales partners during production, we were able to increase our development budget. In order to maximize game quality under the adjusted budget, game planning was fundamentally altered and ultimately allowed us to incorporate a number of different elements beyond our original expectations. Listed here are the major changes.

Campaign Stretch Goal Elements

Achieved stretch goal elements not implemented

Character Perspective System (Implementation could not be achieved in this game.)

Achieved stretch goal elements changed

Skill Tree System was changed to the Skill Book System to better fit the battling style.
Baisha area changed to Fortified Castle area. Mini-games, infiltration event, battle event, investigation and battle event have been implemented in the Fortified Castle area.

Stretch goal elements not achieved but implemented

・Please see the image above. 10 of the unreached elements will be included in the game.

Non-Stretch Goal Elements

Story Improvements – Shenmue III begins the day after Shenmue II leaves off. The story now includes more cinematic scenes and nostalgic flashbacks to naturally draw new players in (and fans back in) to the world of Shenmue.
Scaled-Up Free Roaming Environment – Initially, the Guilin area was to be organized into three areas: Bailu, Choubu (Niaowu), and Baisha, but to accommodate major additions and changes to game elements, Baisha became Fortified Castle area, and focus shifted to expanding Choubu (Niaowu). We have in effect been able to achieve a scale greater than that of Shenmue II and bring the fun of an "open world" to life. To better experience quests and events, NPCs and things to interact with in the cities have been multiplied beyond what was originally envisioned making for a more complete Shenmue experience.
Powered Up Battle System – With the inclusion of the Skill Book System and the Dojo System, you can train or have matches any time you want for deeper, more immersive play. Battle difficulty can be changed in-game to be enjoyable for beginners all the way to experts.
Game Cycle Improvements – Story progression, skill acquisition, training, mini-games, jobs and other elements that were independent from each other in previous games have been worked to flow into a singular game cycle.

■ Message from Yu Suzuki

I first want to thank all of you for your enduring support from the bottom of my heart. This announcement was made in the coordination of all our partners. As such, it was not presented in a timely fashion which I apologize for. We have at last been able to report the results of the project team's review of the EGS exclusive distribution deal.

The project team is currently concentrating on finishing up to release the game. We are working hard to deliver a game better than hoped even if by a little for the announced release date. Along with the significant project changes at the heart of this announcement, there have been many other changes since our original assumptions. I believe, however, that the game overall has been strengthened and that Shenmue III has assuredly been transformed and is heading in a positive direction.

Thank you always for your support.
Shenmue III is due out for PlayStation 4 and PC on November 19.