Super Mario Odyssey Nintendo Labo Toy-Con 04: VR Kit screenshots
Making the band.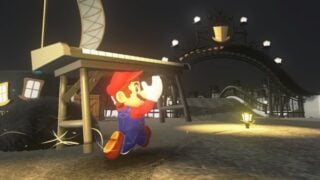 The Super Mario Odyssey Japanese Twitter account has shared screenshots and a few new details about the Nintendo Labo Toy-Con 04: VR Kit experience coming to Super Mario Odyssey via a free update on April 25, which utilizes the "VR Goggles" included with the kit.
Players will revisit the "Cap Kingdom," "Seaside Kingdom," and "Luncheon Kingdom," where they must collect the music notes scattered throughout each kingdom to obtain various instruments. By giving the instruments to performers, they will become band mates, and when the band is fully assembled, they will put on a concert at the music club in the Metro Kingdom.
Super Mario Odyssey is available now for Switch. Nintendo Labo Toy-Con 04: VR Kit is due out for Switch on April 12.
View a new set of screenshots at the gallery.