Kinda Funny Games Showcase to feature over 60 titles
Sega, Devolver Digital, Bithell Games, and more to participate.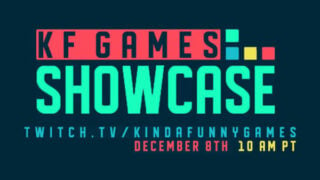 The Kinda Funny Games Showcase on December 8 will feature over 60 games from developers big and small, including Sega, Humble Bundle, DrinkBox Studios, Devolver Digital, Kitfox Games, Bithell Games, Outer Loop, and FuturLab, Kinda Funny announced.
Nearly half a dozen titles will be released during the digital conference, which is sponsor-free and will run for over an hour in length.
"I've always loved how Geoff's Game Awards dovetail with PlayStation's PSX," said Kinda Funny co-host Greg Miller in a press release. "The Game Awards take care of all the huge news, announcements, and trailers, and then PSX offers a lower key, fan / dev-focused event where other—often smaller—games can shine. With it taking 2018 off, we thought it would be a great opportunity to take it upon ourselves to offer game makers a platform to celebrate their work."
Mike Bithell of Bithell Games also teased, "When Greg told me they were working on a showcase to celebrate games and those who make and play them, I jumped at the chance to be a part of it. I can't wait to see what they've made, and I can't wait to share a fun surprise with their fantastic community."
Other teased appearances include:
The Kinda Funny Games Showcase will be live streamed on Twitch on December 8 at 10:00 a.m. PT.