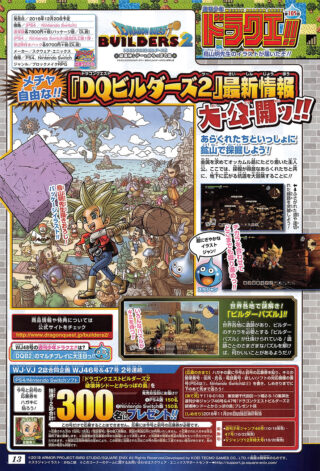 The latest issue of Weekly Jump has new information on Dragon Quest Builders 2.
Here are the details:
Mining with Ruffians

The protagonist visits Occulm Island in search of metal. Together with ruffians that specialize in mining, go on a grand adventure in the underground mines spread across the island! Break through blocked paths and broken tracks.

Solve Builder Puzzles Scattered Throughout the World

In Dragon Quest Builders 2, there are ruins all throughout the world where players can challenge "Builder Puzzles" that call for the power of a builder. If you solve the various puzzles of each ruin, something good may happen.
The next issue of Weekly Jump, due out on October 29, will have a feature on the game's multiplayer component.
Dragon Quest Builders 2 is due out for PlayStation 4 and Switch on December 20 in Japan.