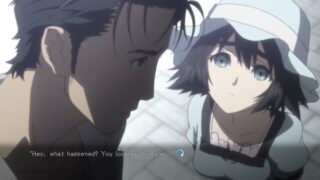 Steins;Gate Elite will launch for PlayStation 4 and Switch day and date with its North American release on February 19, 2019, publisher Spike Chunsoft announced.
The PlayStation 4 version will include the bonus game Steins;Gate: Linear Bounded Phenogram and the Switch version will include the bonus game 8-BIT ADV Steins;Gate.
Here is an overview of the game, via Spike Chunsoft:
Steins;Gate Elite is fully remastered with animated scenes from the anime, creating a brand new, immersive experience. Follows a group of young, tech-savvy "lab members" who discover the means of changing the past via e-mail using a modified microwave. Their experiments in pushing the boundaries of time begin to spiral out of control as they become entangled in a conspiracy surrounding SERN, the organization behind the Large Hadron Collider, and John Titor, who claims to be from a dystopian future.