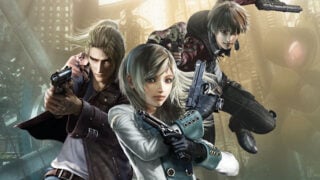 tri-Ace has announced Resonance of Fate 4K / HD Edtion for PlayStation 4 and PC (Steam). It will launch digitally worldwide on October 18 for $35 / €35 / 3,700 yen.
Here is an overview of the game, via its official website.:
■ World

The Earth in a far distant future.

Although the reasons are unclear, multitudes of negative elements saturate the world, leaving the earth on the brink of ruin.

The poisons from the atmosphere swirl along the ground, and the biosphere has become so warped that even the concept of time has been broken. The human race faces extinction from being unable to cope with the bizarrely evolving ecosystem.

The remnants of humanity band together to build and place 'Basel', a huge machine that normalizes the environment. Basel functionality to normalize things also included controlling living things. That also included controlling the life cycles of people, reducing and exhausting humans as mere seeds.

The remaining humans gathered around Basel and continued their existence. In time, the humans gained entrance into the machine and created living spaces and even a town. Though these actions had consequences, causing the gradual erosion of Basel's functionality.

The descendants of the original builders huddled in their self-contained worlds, repeating the mistakes of their ancestors.

■ Characters

Zephyr
"How can there be a God in a world with people like me?"

Voiced by: Scott Menville
Age: 17

"A youth that rebels against fate. He grew up in a seminary. A few years ago, he was captured by Vashyron after starting an incident there. Currently, he partners with Vashyron in a PMF.

Vashyron
"But that's really not for me to say. The only thing that matters is wwhat's in your heart. Right?"

Voiced by: Nolan North
Age: 26

A man that has accepted his fate. Works as a PMF (Private Military Firm), contracting various missions for compensation. Supposedly a surviving member of the cardinal forces that was involved in a large scale war, but he reveals little of his past.

Leanne
"Is it really a dream if you can just buy it?"

Voiced by: Jessica DiCicco
Age: 21

A girl that has overthrown fate. A young woman living with Zephyr and Vashyron. She was saved by Zephyr and joined him in the PMF.

■ System

Experience firearm-based pulse-pounding strategic battles!
Customize to create your own original ultimate gun!
Solve the puzzle of the world map to reveal it!
Change your appearance depending on the situation!
The bullet hell RPG is about to begin!

■ Purchase Benefits

PlayStation 4: Original Theme and Avatar
Steam: Steam Trading Cards

■ Specifications

Available on: PlayStation, PC (Steam)
Genre: RPG
Release Date: October 18, 2018
Price: $35 / €35 / 3,700 yen
Players: Single-Player
Rating:

ESRB: Teen
USK: 16
PEGI: 16
Classification Board: Under Review
Watch the announcement trailer below. View a set of screenshots at the gallery.
English
Japanese