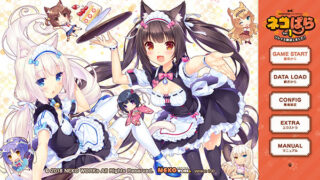 The PlayStation 4 and Switch versions of Nekopara Vol. 1, which were previously dated for release worldwide on June 21, have been delayed to July 4. Princess Maker series publisher CFK will publish the game. In Japan, it will cost 1,500 yen.
Additional features in the console versions include a new opening song by Popholic and Aki Misato, a new opening movie, new CG, and new scenarios. As not to make the new scenarios feel out of place, all voice-overs have been fully re-recorded. Also, in addition to Japanese, English, and Traditional Chinese subtitle and UI language options, Simplified Chinese has been added. Finally, Nekopara Vol. 1 on consoles includes the fandisc Nekopara Vol. 0.
Here is an overview of Nekopara Vol. 1 and Nekopara Vol. 0:
Nekopara Vol. 1 (Steam)

What's Nekopara? Why, it's a cat paradise!

Kashou Minaduki, the son of a long line of Japanese confection makers moved out to open his own shop "La Soleil" as a patisserie.

But upon moving out, hidden amongst his things were two of the catgirls, Chocola and Vanilla, that the family had been raising. When he tried to send them back, they begged and pleaded until he gave in and now they've opened La Soleil together.

With two catgirls who really, REALLY love their master trying their very best and occasionally failing — a heartful comedy opens for business!

See the Sayori Neko Works' mascots Chocola and Vanilla like never before, moving, and in full voice on screen. And now with the E-mote System, the characters smoothly move on screen changing expression and poses in countless ways.

Nekopara Vol. 0 (Steam)

Please note that Nekopara Vol. 0 is a fandisc for Nekopara Vol. 1.

What's Nekopara? Why, it's a cat paradise!

This is a story just before Kashou opened "La Soleil".

The eldest daughter of the Minaduki household and their six catgirls go to wake up their master; prepare breakfast; clean up the house; go out on a walk; make dinner; take a bath; sleep together; et cetera, et cetera.

Enjoy a page from the leisurely, daily lives of Shigure and the Minaduki household's catgirls!