Activision announces E3 2018 lineup, teases "exciting announcements"
Black Ops IIII, Destiny 2: Forsaken, and Spyro Reignited Trilogy playable.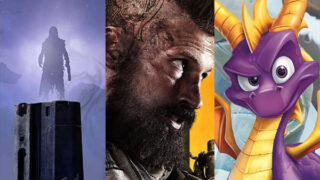 Activision has announced the lineup of games it is bringing to E3 2018 in Los Angeles from June 12 to 14.
In addition to first public hands-on gameplay with Call of Duty: Black Ops III and Spyro Reignited Trilogy, Activision says that "fans can stay tuned for additional announcements, including Crash Bandicoot N. Sane Trilogy news, next week."
The Crash Bandicoot N. Sane Trilogy news mentioned in the press release is likely the new "Future Tense" bonus level earlier this week.
"Activision's E3 2018 slate is all about giving fans what they want – hands-on experiences with their most-beloved game franchises," said Activision CMO Tim Ellis in a press release. "Call of Duty: Black Ops III delivers gritty, grounded, all-out combat in an incredibly deep multiplayer experience that players can jump into at the show; Destiny 2: Forsaken invites players to experience the frenetic pace of the all-new four-versus-four mode, Gambit; Spyro Reignited Trilogy gives fans first hands-on gameplay with the totally remastered experience; and there's more exciting news still to be announced!"
Here is Activision's full lineup of playable titles:
Call of Duty: Black Ops IIII (PS4, Xbox One, PC)

The series which has become the most played in Call of Duty history as well as a cultural phenomenon around the globe returns October 12th with the release of Call of Duty: Black Ops IIII, a gritty, grounded, all-out combat experience. Black Ops IIII raises the bar for Multiplayer mode that increases tactical gameplay and player choice, along with the biggest Zombies offering ever with three full experiences at launch, and Blackout, where the Black Ops universe comes to life in a massive battle royale experience featuring iconic characters and locations from all four Black Ops games in a one-of-a-kind offering that is uniquely Black Ops. Call of Duty: Black Ops IIII transforms the established universe played by hundreds of millions of fans with the largest gameplay experience ever created in the series.

Call of Duty: Black Ops IIII is published by Activision and developed by Treyarch with additional development support from Raven Software and PC development with Beenox. The title is scheduled for release on PlayStation 4, Xbox One and PC on October 12. Fans can pre-order now and get access to the Call of Duty: Black Ops IIII Private Beta*. Black Ops IIII for the PC delivers a fully-optimized experience, which for the first time in Call of Duty's history will be available exclusively on Battle.net, Blizzard Entertainment's online gaming service.

Destiny 2: Forsaken (PS4, Xbox One, PC)

Destiny 2: Forsaken – Following years of strife, what remains of the Reef has fallen to lawlessness. Players investigate the recent unrest and will explore new regions, awaken new powers, and earn powerful weapons. Building on the most requested desire for a deep and rewarding endgame experience, Destiny 2: Forsaken features The Dreaming City destination. Full of secrets to discover and bosses to defeat, this destination also houses the brand-new raid and is the first space designed from the ground up to support endgame content. Available to all Destiny 2 players around Forsaken's launch comes highly anticipated changes and features such as a new weapon slot system, Random Rolls, improvements to the mods system, and numerous other quality-of-life improvements.

Destiny 2: Forsaken will be available for download on PlayStation 4, the Xbox One family of devices including Xbox One X, and PC. The PC version of the expansion will also be available exclusively on Battle.net, Blizzard Entertainment's acclaimed online-gaming platform.

Spyro Reignited Trilogy (PS4, Xbox One)

The Spyro Reignited Trilogy launches on September 21 and is available for preorder now for the suggested retail price of $39.99 on PlayStation 4, PlayStation 4 Pro and the family of Xbox One devices from Microsoft, including the Xbox One X! Spyro Reignited Trilogy introduces players to a fully remastered game collection of the three original Spyro games that started the phenomenon: Spyro the Dragon, Spyro 2: Ripto's Rage!, and Spyro: Year of the Dragon.

Remade from the ground up by lead developer Toys for Bob, the Spyro Reignited Trilogy features the fun and nostalgic gameplay that fans remember with more than 100 levels, enhanced reward sequences, Spyro's gang of zany dragons and other goofballs (including Sparx the Dragonfly, Hunter, Sheila, Agent 9 and Sgt. Byrd) and more.