Final Fantasy XII: The Zodiac Age coming to PC via Steam on February 1
The PlayStation 4 remaster gets a PC version.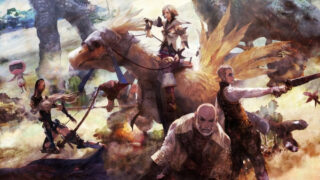 Final Fantasy XII: The Zodiac Age, which launched for PlayStation 4 in July 2017, is coming to PC via Steam on February 1 for $49.99, Square Enix announced.
Users who purchase the game through Steam within the first week of launch will receive a 20 percent discount, a three-track digital music compilation, and a new Steam skin illustrated by Final Fantasy artist Isamu Kamikokuryo.
A physical Collector's Edition will also be released exclusively via the Square Enix Store for $149.99. It includes an official Collector's Edition Steelbook with the original soundtrack, a five-piece Judge Masters Bust Set, six-card art set, and a digital download code for the game.
Here is an overview of the PC version, via Square Enix:
Final Fantasy XII: The Zodiac Age on Steam will release with all of the modern advancements and features available in the PlayStation 4 version, such as latest-generation visuals, a remastered soundtrack, new Speed and Trial modes, fast forward function, and many other enhanced features. The following new features will also be added for PC users:

60FPS – Ivalice will look better than ever with the game running at 60FPS.
Compatible with 21:9 ultra-wide monitors – Up to three HD monitors can be used for a potential 48(16×3):9 experience.
New Game Plus and New Game Minus – Post-game content modes are now accessible from the beginning of the game.
Three background music options – The original, re-orchestrated and soundtrack versions are now available from the beginning of the game.
Maximized License Points and Gil – New functionality added to grant players max License Points and Gil from the configuration screen.
Full controller support, Steam Trading Cards and more to optimize the PC player experience.
Square Enix will host a special launch program on Thursday, February 2 at 12:00 a.m. PT where producer Hiroaki Kato and director Takashi Katano will answer questions presented by Final Fantasy fans on Twitter. You'll be able to watch the program with English subtitles on the official Final Fantasy YouTube channel.
Watch the PC announcement trailer below. View the first screenshots at the gallery.