Dissidia Final Fantasy NT Warrior of Light, Firion, Onion Knight, and Cecil Harvey character trailers
Plus, new screenshots of Cain Highwind, Ramza, and Ace.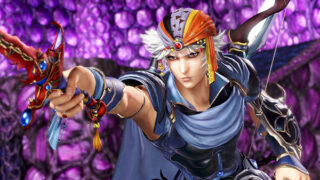 Square Enix has released a new set of character trailers for Dissidia Final Fantasy NT introducing Final Fantasy I's Warrior of Light, Final Fantasy II's Firion, Final Fantasy III's Onion Knight, and Final Fantasy IV's Cecil Harvey.
Here is an overview of each character, via the Dissidia Final Fantasy NT official website:
Warrior of Light

A noble warrior who fears no one and courageously faces any enemy. Warrior of Light, wielding his sword and shield, specializes in close to mid-range attacks.

Firion

He is a passionate warrior that fights for a free world liberated from war and tyranny. With a wide range of arms, Firion has the ability to combine these weapons to perform strong combo attacks.

Onion Knight

The Onion Knight may be the youngest warrior but he can be a formidable foe. He wields the strength befitting of a true knight with his exceptional speed and mastery of sword and magic.

Cecil Harvey

Cecil calls upon the powers of light and dark. He is a mysterious man with expertise in both swordsmanship and aerial combat. Cecil is able to switch between ground fighting with both short range and long range battle styles or aerial combat paired with his agility.
If you missed it, the previous character trailer introduced the non-playable Materia and Spiritus.
Dissidia Final Fantasy NT is due out for PlayStation 4 on January 11 in Japan, and January 30 in North America and Europe.
Watch the trailers below. Additionally, view a new set of screenshots of Cain Highwind (Final Fantasy IV), Ramza (Final Fantasy Tactics), and Ace (Final Fantasy Type-0) at the gallery.
Warrior of Light
Firion
Onion Knight
Cecil Harvey