This Week's Japanese Game Releases: City Shrouded in Shadow, Itadaki Street: DQ & FF 30th Anniversary, more
The start of a weekly post series.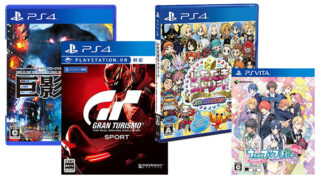 Several anticipated titles are launching this week in Japan, including the Kazuma Kujo-directed survival action game City Shrouded in Shadow for PlayStation 4, the digital board game Itadaki Street: Dragon Quest & Final Fantasy 30th Anniversary for PlayStation 4 and PS Vita, and the Uta no Prince-sama fan disc compilation Uta no Prince-sama: Amazing Aria & Sweet Serenade Love for PS Vita.
In addition to those, several titles including Gran Turismo Sport, the anticipated PlayStation 4 entry in the Gran Turismo franchise, are launching worldwide this week or are already available outside Japan.
Get the full list of this week's Japanese game releases below. It should be noted that Gematsu will receive a small percentage of money from purchases made through Play-Asia links. You can also save $3 using our "GEMATSU" coupon code.