The Alliance Alive Launch Edition announced for the Americas, first character trailer
3DS RPG due out in early 2018.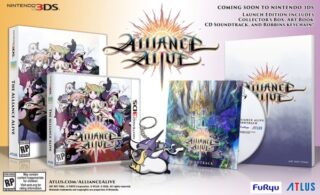 Atlus has announced a The Alliance Alive Launch Edition for the Americas.
First-print and pre-ordered copies of The Alliance Alive will be the Launch Edition, which includes an exclusive CD with 20 tracks, art book with more than 30 pages of detailed illustrations, and a Robbins penguin key chain.
Atlus also released a new trailer introducing some of the characters fighting together against the evil daemons that have taken over the world of The Alliance Alive.
Here's an overview of the game, via Atlus:
One thousand years ago, Daemons invaded the world of Humans

They subjugated Humanity and created the Great Barrier to separate the realms. The world was thrown into upheaval, and the Dark Current was born. It carved a cross-shaped swath across the ocean, swallowing countless cities in its wake. Humanity was decimated. Hundreds of years later, Daemons rule atop a hierarchical society. However, the time for resistance has come. The world is about to change yet again…

Crafted by Legendary Talent

With writing by Yoshitaka Murayama, game design by Kyoji Koizumi, a vision realized by director Masataka Matsuura, and a stunning score delivered by acclaimed composer Masashi Hamauzu, players will experience the nostalgia delivered by these JRPG greats. With gorgeous world exploration, an intertwining story involving nine memorable characters, and strategic, turn-based gameplay mechanics, players won't want to miss this return to JRPG excellence.

Built on a sprawling world replete with numerous secrets to discover, players will need to establish and unite guilds throughout the four realms while battling the Daemons. Use the "Ignition" system, a part of the turn-based combat that allows for deep customization and nuanced gameplay, to reach an enhanced state and deliver devastating Final Strikes. In The Alliance Alive, players will need to keep their wits about them and think strategically to win each fight!
The Alliance Alive is available now for 3DS in Japan, and will launch in the Americas and Europe in early 2018.
Watch the trailer below. View a high-res version of the launch edition at the gallery.