Project Nimbus: Code Mirai announced for PS4
An Unreal Engine 4-powered mecha action game.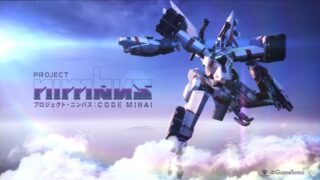 GameTomo and Kiss are bringing Project Nimbus, the high-speed mech action game currently in Early Access on Steam, to PlayStation 4 as Project Nimbus: Code Mirai, the companies announced. It will launch this fall in Japan and in early 2018 for the rest of the world.
The PlayStation 4 version is an Unreal Engine 4-powered remaster of Act 1 and Act 2 of Project Nimbus with improved graphics, higher resolution, and more.
Here's an overview, via GameTomo:
About the Game

Project Nimbus: Code Mirai is a port of Project Nimbus using Unreal Engine 4 with upgraded graphics to make for a suitable-quality PlayStation 4 game. Not only have the graphics been improved, the overall balancing has been adjusted, new actions have been added, and the user interface has been completely rebuilt. Project Nimbus: Code Mirai is due out this fall.

Key Features

Missions set throughout 16 different locations, including sky city, sea fort, mountain base, giant prison, and space stages.
Various mecha and weapons, including smart missiles, laser blades, particle canons, floating laser shields, rail guns, and auto-attacking and defending psycho drones.
A grandeur story of an ace pilot set on a future earth destroyed by war, where a battle between three factions will unfold.
Eye-catching combat style with transforming giant mecha, daredevil pilots, and battles against armed flying boats.
The PC version of Project Nimbus will leave Early Access and launch officially on September 26.
Watch the announcement trailer below. View the first screenshots at the gallery. Visit the official website here.