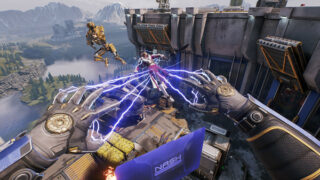 The open beta for LawBreakers will run from July 28 to July 31, developer Boss Key Productions announced.
Here's the full schedule of access times:
Beta Begins: Friday July 28th at 7:00 a.m. PT / 10:00 a.m. ET / 4:00 p.m. CEST / 12:00 a.m. AEST (Saturday)
Beta Ends: Monday July 31st at 7:00 a.m. PT / 10:00 a.m. ET / 4:00 p.m. CEST / 12:00 a.m. (Tuesday)
Pre-download will be made available across the different regions and platforms over the next 24 hours.
Boss Key Productions is also holding two beta contests:
Early Bird Beta Contest (PC) – Play three matches in the first four hours after the beta is launched to be entered into a drawing to win a replica cosplay Aerator rifle or an Nvidia 1080ti Graphics Card. (North America-only, Rules.)
Play the Beta Contest (PS4) – Share a screenshot from the game on Twitter using the hashtags #SkilledAF and #LBBetaPS4 to be entered for a chance to win a custom LawBreakers-themed PS4 console. (Rules.)
LawBreakers is due out digitally for PlayStation 4 and PC on August 8 for $29.99. Limited run physical editions are also being produced.