7'scarlet coming to North America in 2018
1-6'Scarlet nowhere to be seen.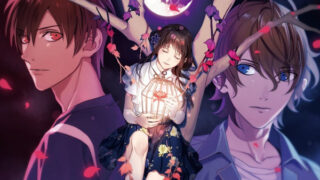 Idea Factory otome visual novel 7'scarlet is coming to PS Vita in North America in 2018, Aksys Games announced at Anime Expo 2017.
Here's an overview of the game, via VNDB:
The summer holdays.


A town caged by nature, Okunezato.
One year ago in this town, her older brother suddenly disappeared without a trace.

Shaped like a fragment of the moon, a nostalgic atmosphere permeates the town. It is known for having many legends and folklores. As a result of the continued population decline, the amount of modern-looking buildings have increased in the main street. The town is starting to gain attention due to its status as a "mystery hot spot" amongst the youngsters in the underground scene.

One day, during summer vacation, the protagonist and university student Hanamaki Ichiko is invited by Kagutsuchi Hino- her childhood friend in the same university year level as her- to go to Okunezato in order to look for her disappeared older brother together. Hino had found the "Forbidden Okunezato Club", a website in which its visitors discuss the mysteries and legends of Okunezato. Taking advantage of the offline meeting between the visitors that will take place during the summer holidays, he suggests to look into her brother's disappearance during this time. With Hino having pushed her back, Ichiko wills herself to go to Okunezato.

The young men from the Forbidden Okunezato Club website had gathered at the Fuurin Hotel- the live-in chef Amari Isora, the cat lover otaku Kushinada Toa, the med student Tatehira Sousuke and the owner of Fuurin Hotel Murakumo Yuzuki. Others such as the genius middle schooler who assists with managing the hotel, Hirasaka Yuki, the landscape photographer Tsukuyomi Kagura, the unsociable novelist Karasuma Chikage and the video game-loving female employee of Fuurin Susano Yua also become involved as they all get caught up in mysterious incidents.

The "other face" of Okunezato comes to light as rumours regarding the "Legend of the Dead" are treated as though they were fact. Everytime they follow the footsteps of her disappeared brother, mysterious events spark. The true existence of the forbidden grounds, and the legendary flower that only blooms in Okunezato…

The truth behind these incidents lead to a surprising and totally unexpected ending.
Watch an off-screen trailer below.
7'scarlet announced for Vita. Coming 2018. pic.twitter.com/M7QsZMes2k

— RPG Site (@RPGSite) July 1, 2017