Senran Kagura: Peach Beach Splash patch 1.08 now available in Japan, adds new rule, map, and episodes
"Capture the Flag" rule and "Pinball Land" map.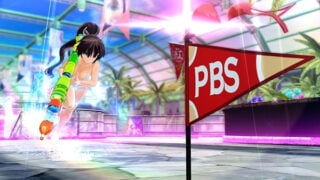 Marvelous has released the version 1.08 update for Senran Kagura: Peach Beach Splash in Japan, adding a new game rule, new map, and two new episodes. 
Here's what's included:
New Multi-Splash Rule: "Capture the Flag"

A new rule in which players compete to carry the flag from the enemy camp back to their own camp a certain number of times.

New Map: "Pinball Land"

A new stage made in the image of a glittery, radiant, cyber-esque pinball table. You can play this map in Multi-Splash and Diorama.

Two New Episodes

Spectacular Photos on the Beach! – Shiki, seeking material for her blog, aims to get sexy photos of beautiful girls… hehehe.
Unrivaled Foe – Daidouji-senpai awaits Rin, in order to find out which one of them won. But it was Miss R who appeared instead!
Senran Kagura: Peach Beach Splash is available now for PlayStation 4 in Japan, and will launch in North America and Europe this summer.
View a set of screenshots from the update at the gallery.