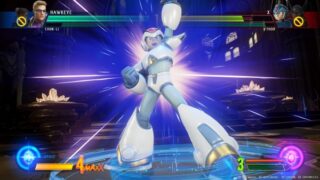 NeoGAF user Ryce who leaked the existence of Marvel vs. Capcom: Infinite before its December 2016 announcement in November, as well as provided repeated leaks and hints about the game post-announcement, has posted what he claims is the full roster for the upcoming fighting game.
Here is the list, as provided by Ryce:
Capcom

Arthur
Chris
Chun-Li
Dante
Firebrand
Jedah
Morrigan
Nemesis
Ryu
Spencer
Strider Hiryu
X
Unknown character (Ryce guesses it's someone like Frank West)

Marvel

Ant-Man
Captain America
Captain Marvel
Doctor Strange
Gamora
Hawkeye
Hulk
Iron Man
Nova
Rocket / Groot (Ryces says the character was named to him in this way, and that he's not sure if it's just Rocket Raccoon with Groot assists or a redesigned character actually called Rocket / Groot)
Spider-Man
Thanos
Thor
Ultron

Downloadable Content

Six additional characters planned for first season, including the already confirmed Sigma, and Venom.
Marvel vs. Capcom Infinite is due out for PlayStation 4, Xbox One, and PC on September 19.