Dark Witch Music Episode: Rudymical announced for Switch
A Dark Witch Story spin-off rhythm game.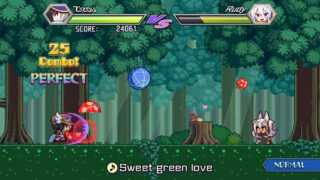 Flyhigh Works, Inside System, and Esquadra have announced Dark Witch Music Episode: Rudymical for Switch. The game, which was previously released for iOS and Android, is a spin-off of the Dark Witch Story series that has appeared on 3DS, PS Vita, and PC. It will launch via the Nintendo eShop on May 11 in Japan for 800 yen. A page on the official Nintendo UK website confirms a European release on the same day. (Update: And North America!)
Here's an overview of the game, via Nintendo UK:
The popular spin-off from Dark Witch Story is now available on Nintendo Switch!

Play the single-player Story Mode and defeat all the bosses! Play the VS Mode to battle against your friends, and the Co-Op Mode to co-operate!

Press the buttons rhythmically in time to cut down Boing boings (bullets). Jump to avoid fire beams!

Get your groove on, Dark Witch style!
High quality graphics true to the original Dark Witch Story
Original music composed by Raito
Beautiful illustrations
Here are a few more details:
Story Mode – A one-player mode. Choose your favorite from among three playable characters. By getting a high score, you can obtain items called "Syega," and collecting a certain amount of these items will unlock different costumes for the playable characters. There are a total of 13 stages to choose from. Defeat the bosses that await in each with high spirit rhythm action!
VS Mode – Compete against a friend in a rhythm battle. You can also interfere with each other during the battle.
Co-Op Mode – Work together with a friend to clear each stage. The syncrhonization rate between the two players will decide whether you win or lose.
Watch the announcement trailer below. Visit the official Japanese website here.