Star Ocean: Till the End of Time announced for PS4
It's the third Star Ocean up-rendered in high-definition.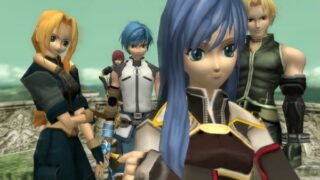 Square Enix will release Star Ocean: Till the End of Time for PlayStation 4 as a PS2-on-PlayStation 4 title in Japan in 2017, the company announced.
The download-only title is part of a new Ultimate Hits HD series from Square Enix and uses the power of PlayStation 4's PS2 emulator to up-render the game in full high-definition with less jaggies and better lighting. The PlayStation 4 version also supports trophies, share features, remote play, and removes the stress of disc-changing and lengthy load times.
More specifically, this is Star Ocean: Till the End of Time Director's Cut, which was released for PlayStation 2 in Japan in 2004, a year after the release of Star Ocean: Till the End of Time. The Director's Cut, however, is based on the North American and European versions of the game, which includes bonus features not in the original Japanese release such as new characters and dungeons.
Watch some gameplay from the PlayStation 4 version below (from 1:15:25 to 1:17:44). View a set of screenshots at the gallery.