The King of Fighters '94 for PS4 launches October 27 in the west
Five more Neo Geo titles coming in 2016, two in early 2017.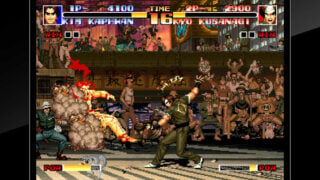 The King of Fighters '94 will launch for PlayStation 4 as part of Hamster's "ACA Neo Geo" series on October 27 in North America and Europe, the company announced.
The fighting game originally launched in 1994, and features unique three-on-three battles, intricate special move systems, and popular fighters from SNK's Fatal Fury, Art of Fighting, and Ikari Warriors franchises.
The following additional ACA Neo Geo titles are scheduled to launch for PlayStation 4 in 2016:
Metal Slug
Alpha Mission II
Fatal Fury
World Heroes
And the following games will arrive in early 2017: