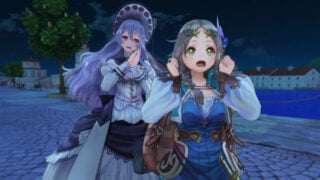 Gust has released the latest information and screenshots of Atelier Firis: The Alchemist and the Mysterious Journey, introducing new characters Pamela, Nanna, Henrikka, Lukas, Nicola, and Bernd, as well as some of the various interactions with characters you'll have and the effects Firis' costumes will have.
Get the details below.
■ Characters

Pamela Ibis

Age: ??
Occupation: Sister
Voiced by: Asuka Tanii
Illustrated by: NOCO

A traveling sister who left her hometown of Kirchen Bell to train for her sisterhood. Although her training has ended, she ran out of travel expenses because she bought too many souvenirs, and now runs a shop in Reisenberg to earn money. She is gentle and warm, and has a hard to pin down personality.

Nanna Tremmel

Age: 26
Occupation: Shop Employee
Voiced by: Yuko Sasamoto
Illustrated by: Yuugen

A woman who runs Reisenberg's greatest shop. At first glance she appears to have an easygoing and gentle personality, but in reality she is a schemer. She is very intelligent and always considering various means to earn money. Her and Edel have been friends since childhood, and the two have a relationship where they can joke around with each other. Recently, she has been thrown off key by Pamela, who often comes to the shop.

Henrikka Asmus

Age: 28
Occupation: Hot Springs Manager
Voiced by: Nana Hayama
Illustrated by: Yuugen

A woman who works as the hot springs manager in the snow town of Flocke. She talks with an easygoing tone, but is always sleepy for some reason. She surprises Firis with her jokes, the seriousness of which cannot be comprehended. She likes seeing the loosened expressions of those who enter the hot springs.

Lukas Mistlud

Age: 36
Occupation: Miner
Voiced by: Masaaki Yano
Illustrated by: Yuugen

Firis' father. He is a miner who mines ores in the town of Eltona. He has a serious and kind personality. He has an indiscriminate love for his two daughters, but is completely under his wife's thumb.

Nicola Mistlud

Age: 37
Occupation: Merchant
Voiced by: Ayumi Nagao
Illustrated by: Yuugen

Firis' mother. She is strong-willed and says things in a straightforward manner, but loves Lukas, Firis, and Liane deeply. Since she worries for her daughter Firis, she strongly opposes her going leaving the town. Her specialty meal is rabbit roast.

Bernd Lederer

Age: 65
Occupation: Elder
Voiced by: Yasuhiro Mamiya
Illustrated by: Yuugen

An elder at Firis' home town of Eltona. He is a considerably great man, but also a man of character who truly shows no signs of self-importance. He is distressed at the current state of the town, considering the amount of mined ores has decreased over the years. Because of this, he places his hopes in Firis, who can reliably work the mines, but on the other hand, is agonized since he knows of her dream.

■ The World

The friends that travel with Firis, as well as the various people you meet, will have a variety of emotions on display. Firis will experience a variety of events, whether it's their worries and dreams, or witnessing a more surprising side of the character.

■ The Friends With Whom You'll Travel

—Liane enjoys dressing up Firis. Usually she'll calmly watch over her sister, but she can't contain her excitement when it comes to Firis' various outfits.

—Just like Firis, Ilmeria is aiming to become a certified alchemist. But what kind of reaction does she have when she unexpectedly finds a baby chick plushie at the shop?

—Revy is so particular about cooking that he considers growing his own vegetables. Is the man aiming to become the strongest swordsman also aiming to become the greatest chef?

—Firis sees Escha playing with Drossel. Drossel, a playwright, captures not only her audience, but the feelings of the children as well.

—While your first impression of Angriff may be that he's a rough person, as you continue your journey and he keeps his promise, you'll see that he is a hot-blooded man with a strong conviction.

—Kald has a phobia of women. But that is certainly not the case when he's talking to Firis. So Firis confronts him about it.

—Plachta has supported Sophie, as well as Firis, from the shadows. As an alchemist herself, she shares her own feelings about seeing the two girls grow.

–Oskar is super impressed by Revy's cooking. When Revy says you'll gain weight if you eat too much, he starts talking about why he's so skinny.

—Sophie, who's grown enough to have her own disciple in Firis, continues to travel in her natural cheerfulness without forgetting what happened in the past. So she begins a dialogue with Firis about the purpose of her own journey.

■ New Alchemist Advice from Certified Alchemists

—Dion, looking back at her former self, tells Firis of her own failures and mistakes.

—Aurelie has lived as an alchemist for a long time. She teaches Firis the mental attitude of an alchemist.

—The strictly-just Ren kindly tasks Firis with clearing a challenge.

—Although Norbert seems slapdash, he can see through to the true nature of his opponents. As if to deliberately annoy her, he issues a challenge to Firis, who refuses to give up, to find out how talented an alchemist she is.

—Kirsche taught new alchemist Firis the ways of the alchemist. Firis, who studied alchemy during her journey, grows under the influence of various people, and will have an influence on various people herself.

■ Costume Effects

Snow Bride

The "Snow Bride" costume reduces LP consumption in snow fields.

Passionate Inquirer

The "Passionate Inquirer" costume makes it easier to explore in certain areas.

Pure Flora

The "Pure Flora" costume gives you reduced prices at shops.

Alchemist's Garb

The "Alchemist's Garb" costume increases your lines when synthesizing.

Resort Vacation (First-Print Bonus)

The "Resort Vacation" costume makes it easier to find good materials.

Wonderland (Limited Edition)

The "Wonderland" costume decreases the amount of time that passes when synthesizing and traveling.

Fox Trek (New Costume)

The "Fox Trek" costume increases your movement speed.
Atelier Firis: The Alchemist and the Mysterious Journey is the first title in Gust's "Beautiful Girls Festival." It will launch for PlayStation 4 and PS Vita in Japan on November 2, followed by a western release on an unannounced date.
View the screenshots at the gallery.