Puyo Puyo Chronicle first details, trailer, and screenshots
Go on an adventure with Arle and Carbuncle.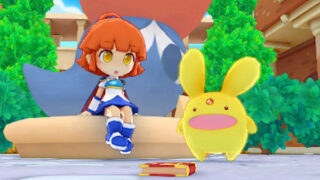 Sega has released the first details, trailer, and screenshots for Puyo Puyo Chronicle, its newly announced action puzzle RPG for 3DS.
The trailer, dubbed the "game introduction trailer," shows off the game's 3D characters, the world full of mysteries in which it is set, the mysterious girl named Allie who protagonist Arle and her companion Carbuncle encounter, quests, town and dungeon exploration, battles, and more.
Here are the details and screenshots, via the game's official website:
■ What is Puyo Puyo Chronicle?

Arle and Carbuncle were playing together in Primp Town when suddenly, a mysterious picture book appears.

She thought what appeared before her was one of Satan's tricks, but Satan was acting strange and disappeared off somewhere…

There, they meet a mysterious girl named Allie, who for some reason refers to Arle as a hero. Set off on a grand adventure in order to return Arle and Carbuncle back to their original world!

Characters

From left to right:

Arle (voiced by Mie Sonozaki)
Carbuncle (voiced by Tamaki Nakanishi)
Allie (voiced by Honoka Inoue)
Amity (voiced by Shiho Kikuchi)
Ringo (voiced by Asami Imai)

■ RPG Mode

The main mode of Puyo Puyo Chronicle is RPG Mode. Freely control 3D characters and explore a new, fully 3D world.

■ Quests

In RPG Mode, there is of course a large volume of main quests, but there are also various sub-quests, too.

■ New Rule: Skill Battle

A new rule called "Skill Battle," where you can enjoy team battles and character development, will appear in the main story. The level-up-based character development system is easy for first-time users, and advanced users will enjoy it as well.

■ Boss Battle with Everyone

A new mode called "Boss Battle with Everyone" allows up to four local players to cooperatively take on a boss battle. You can obtain rare items by defeating these formidable foes, so be sure to try it out.

■ 17 Types of Rules

Puyo Puyo Chronicle offers 17 popular game rules, including the new "Skill Battle" rule and others like "Puyo Puyo Tsu" and "Puyo Puyo Fever," as well the four-player "Everybody Puyo Puyo." You can battle with players online via the "Internet Battle" mode. (Internet Battle only has some of the rules.)

■ Anniversary Box

A 9,490 yen Anniversary Box edition will include:

Special packaging
25th anniversary soundtrack
25th anniversary vocal tracks
25th anniversary drama CD
Puyo Puyo 25th anniversary 3DS theme
Puyo Puyo Chronicle is due out for 3DS in Japan on December 8 for 5,490 yen.
Watch the trailer below. View a set of official screenshots at the gallery.