PlayStation Store PLAY 2016 lineup announced
Headlander, Abzu, Brut@l, and Bound.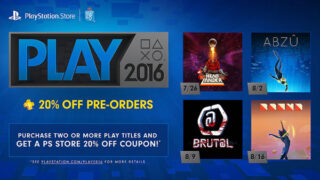 Sony Interactive Entertainment America has announced the lineup for this year's PlayStation Store "PLAY" promotion.
This year's lineup features four PlayStation 4 titles, all available for pre-order starting today. PlayStation Plus subscribers will receive a 20 percent discount when pre-ordering PLAY titles. Users who purchase two or more PLAY titles by August 23 will receive a 20 percent discount coupon on an entire cart purchase.
Get the full lineup below.
Launch Date
Title
(Platform)
PS Plus Pre-Order Price
Regular Price
Pre-Order Theme
7/26
Headlander
(PS4)
$15.99
$19.99
Static
8/2
Abzu
(PS4)
$15.99
$19.99
Static
8/9
Brut@l
(PS4)
$11.99
$14.99
Static
8/16
Bound
(PS4)
$15.99
$19.99
Dynamic
Find details on each title below.
Headlander

Adult Swim Games and acclaimed studio Double Fine team up to bring you Headlander, a '70s-sci-fi-inspired platformer. Play as a disembodied human head that takes over bizarre robot bodies in a retro-futuristic "utopia" ruled by a deranged computer.

Abzu

Abzu is a beautiful, dreamy underwater adventure. Immerse yourself in a vibrant, hidden world that's bursting with life but beware as you swim deeper – dangers lurk in the mysterious depths.

Brut@l

Choose your hero – Ranger, Mage, Warrior, or Amazon – then descend into a dangerous world constructed entirely from ASCII characters. Weapon crafting, potion brewing, and local 2P multiplayer will help you survive the onslaught of enemies in these unique dungeons.

Bound

Developed exclusively for PlayStation 4 by Plastic, the team behind innovative titles like Linger In Shadows and Datura, Bound is a 3D platformer that combines a unique visual style with a powerful story and gameplay mechanics infused with modern dance.