A.W.: Phoenix Festa coming to the Americas via PSN on July 26
Bandai Namco localizing Asterisk War PS Vita game.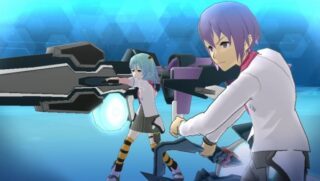 Bandai Namco will release A.W.: Phoenix Festa, the Asterisk War PS Vita game launched in Japan in January, in the Americas via PlayStation Network on July 26.
Here's the full rundown, via Bandai Namco:
A.W.: Phoenix Festa is based on a popular Japanese light novel — The Asterisk War: The Academy City on the Water, where in the 20th century a catastrophic event known as the Invertia leads to the destruction of many large cities on Earth. In order to recover from the devastation, the Integrated Enterprise Foundation is formed and cities are reorganized including one city called Rikka, also known as Asterisk. Within Asterisk, six academies hold tournaments called "Festas" pitting students from each academy against each other.

A.W.: Phoenix Festa combines dating sim mechanics and combat in one game and features its own original storyline carved from the light novel series. The game will let fans experience a true love adventure with numerous endings. A.W. : Phoenix Festa will also offer players various options to enhance relationships between their favorite characters which can be influenced through battles and conversations with non-playable characters (NPCs). Players may start the game as main character Ayato or an original character and go about daily school life by making friends and competing in the "Phoenix Festa" tournament. Players also train themselves in order to increase their combat abilities as they prepare to participate in the "Phoenix Festa" tournament with their favorite characters.
We've contacted Bandai Namco about a European release.
View the first set of English screenshots at the gallery.