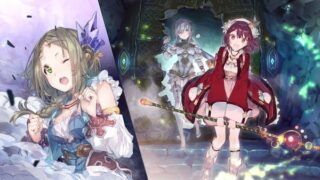 Gust has released new information and screenshots for Atelier Firis: The Alchemist of the Mysterious Journey, detailing characters Sophie, Plachta, and Oskar, who return from Atelier Sophie, and new character Drossel, as well as other elements. All four were first introduced in game magazines last week.
Get the new details below.
■ Characters

Sophie Neuenmuller

Age: 20
Job: Alchemist
Voiced by: Yuka Aisaka
Illustrated by: NOCO

An alchemist who teaches Firis alchemy. Firis calls her Sophie-sensei, and loves her dearly.

Sophie left her hometown and is traveling around the world in hopes of passing the alchemist certified exam. She is innocent and bright, but has experienced a variety of things as a result of her growth, and even shows a seemingly adult side.

Plachta

Age: ??
Job: Alchemist
Voiced by: Yuka Iguchi
Illustrated by: Yuugen

A girl who travels with Sophie and acts as her alchemy teacher. She and Sophie have a wonderful relationship with each other—to the point where you could say they're close friends or family.

She is serious and composed, but there is also a side to her that is somewhat missing. She has a wealth of knowledge in the field of alchemy and kindly watches over her disciple Sophie, as well as Sophie's disciple Firis, and provides them detailed advice.

Oskar Behlmer

Age: 20
Job: Traveler
Voiced by: Seiichiro Yamashita
Illustrated by: NOCO

A young man with the ability to speak to plants. He was born in the same village as Sophie and once adventured alongside her.

He was once chubby, but lost weight as he continued on his journey. He does things at his own pace, but he is in a consierably better state compared to when he was a child.

Drossel Weissberrg

Age: 20
Job: Playwright
Voiced by: Ari Ozawa
Illustrated by: Yuugen

A woman playwright. She is super curious, easygoing, and doesn't mind the minor details. She has a mindset where anything is good as long as it's enjoyable.

Since she received instruction from her father, she has high combat capabilities. However, she is rough in various areas, and has an extremely poor sense of direction. Essentially, she takes action based on high spirits and momentum, but at times she can also act with sensibility.

■ The Journey's Beginning and Goal

A Meeting that Changed Everything

One day, Sophie and Plachta turn up in the town where Firis lives. Firis witnesses Sophie's alchemy and thinks, "If I can use alchemy, I'll be able to leave to the outside world!" and becomes Sophie's apprentice, but her parents are strongly opposed. So Firis begins learning alchemy in order to persuade them.

Aim to Pass the Certification Exam After One Year

Firis, who proved the power of alchemy to the people of her town, is permitted to leave to the outside world, but under the condition that she has to return back to town unless she passes the next alchemist certified exam. And the next exam is in one year.

Open Paths with Superdreadnought Synthesis

Firis will face many difficulties on her journey. At times like these, Superdreadnought Synthesis comes in handy. Superdreadnought Synthesis requires ingredients that are several ten times the scale of standard synthesis, but if successful, its results will greatly influence your journey, such as the story and fields.

■ Battle System Introduction

Smooth, Turn-based Battles

Battles in Atelier Firis see characters perform actions in a rotating turn order. Since one character performs an action at a time, you can react smoothly based on the situation. Item effects and monster behavior / magic will vary based on the weather and time of day during battle. There is also a gauge on the left side of the screen that will activate a "Chain Burst" party co-op attack when it fills.

Skills and Special Moves

As you continue together on your journey, you'll be able to use unique and powerful skills and special moves. These aren't just techniques that induce damage—there are a variety of types, such as those that activate an effect to give you an edge in battle.

Sub Weapons

In Atelier Firis, you can equip two types of weapons to characters: the main weapon and sub-weapon. Each weapon has its own attribute and skill effects, so you should organize your party properly in order to best defeat enemy monsters. Ilmeria can use a gun as a sub-weapon, which offers many special skills and powerful attacks that consume MP. Revy's spear opens him up to technical skills that lessen the abilities of monsters. And with a bow in addition to her sword, Liane can fight at both close and long ranges.

■ First-Print Costume Revealed

All first-print copies of Atelier Firis: The Alchemist of the Mysterious Journey in Japan will include a product code to download the "Resort Vacation" costume for Firis.

■ Limited Edition Costume Revealed

All limited edition copies of Atelier Firis: The Alchemist of the Mysterious Journey in Japan will include the "Wonderland" costume for Firis.
Atelier Firis: The Alchemist of the Mysterious Journey is due out for PlayStation 4 and PS Vita on September 29 in Japan.
View the screenshots at the gallery.