Mary Skelter details setting, characters; first screenshots
Compile Heart's new PS Vita dungeon RPG.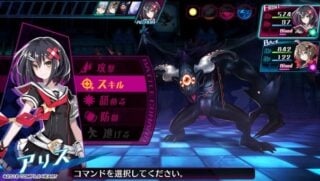 Compile Heart has opened the official website for Divine Prison Tower: Mary Skelter, its new PS Vita dungeon RPG in collaboration with Dengeki PlayStation and Dengeki Bunko, providing first details and screenshots of the upcoming title.
Get the information below.
■ Setting

Jail, known as a "living prison," is an impenetrable human asylum.

Many decades ago, a city suddenly collapsed and a prison controlled by ominous creatures called "Marchen" was born.

As an inmate of Jail, a boy named Jack merely endured his life, deprived of all humanity and being tortured. He has long forgotten when it all started and gave up on his hopes and dreams.

As an inmate of Jail, a boy named Jack, who had forgotten how long it's been since it all started, and whose hopes and dreams, peace of mind, and humanity were stolen from him, while being tortured day and night, had just been living.

But one day after being shut out from all light, a group known as the "Chishiki Girls Squad" rescues Jack from prison.

It was the fated start of Jack and the Chishiki Girls' jailbreak attempt—

In order to take back everything that was stolen from them, Jack and the Chishiki Girls Squad carry out a jailbreak from the impenetrable Jail.

■ Characters

Jack (voiced by ???)

The protagonist. A boy who spends his days as an inmate in Jail. He's a little timid, but also has a strong side. He is a kind-hearted soul who occasionally tries to protect his friends by throwing his own life on the line.

He's taken by Akazukin, who came to save Alice, to break out of jail. As support for the "Chishiki Girls Squad," girls who fight while wounded and wish to become women of power, they attempt to escape Jail.

Although, he'll later also obtain a blood-type (Chishiki) ability and be discovered a "Chishiki Boy"…

Alice (voiced by Sumire Uesaka)

A girl who grew up with Jack from an early age. She was living as an inmate detained by the Marchen together with Jack.

She was confirmed to be a "Chishiki Girl" when she was saved by Akazukin, and fully demonstrates that power to break out of Jail. While she can usually judge things calmly, and is usually diligent and cool, she lays bare her emotions when it comes to Jack.

Akazukin (Little Red Riding Hood) (voiced by ???)

A sometimes exciting, sometimes rough, hot-blooded girl who gallops into the prison. She likes that Jack has guts and enjoys having something to manipulate.

She is said to be the first-discovered "Chishiki Girl" and though rough, acts as an older-sister type that watches over the girls. However, her hot-blooded instincts can sometimes cause a panic.
Divine Prison Tower: Mary Skelter is due out for PS Vita in Japan in 2016 for 7,344 yen via retail and 6,480 yen via download. A limited edition will also be available for 9,504 yen.
View the screenshots at the gallery.