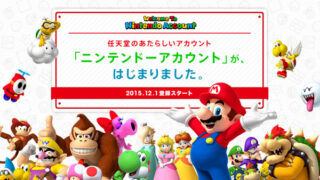 Nintendo has launched its Nintendo Account service in Japan. It was first detailed at an investor's meeting in October.
If you don't own a Nintendo console, you can register for a Nintendo Account through your PC or smartphone. You can also register for a Nintendo Account using social networking services like Facebook, Google+, and Twitter, or via your Nintendo Network ID.
Via your Nintendo Account, you can find and purcahse your favorite software in the same way you purchase games on the Nintendo eShop. When you boot up your registered Wii U and 3DS consoles, your purchases will automatically download to the platforms.
In March 2016, you'll be able to start accumulating points by purchasing and playing software to exchange for original content and discounted services. The Miitomo smartphone app will also be launched.