Project X Zone 2 Japanese release date set
New "Mirage Cancel" battle feature detailed.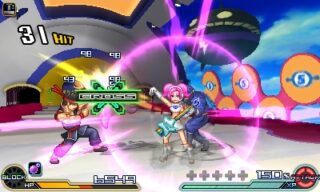 Project X Zone 2 will launch for 3DS in Japan on November 12 at 6,640 yen, the latest issue of Famitsu reveals.
First-print run copies of the game will include the "Woman of '10 Years' Past'" challenge map downloadable content, which by clearing you can obtain the special item "Black Hotpants." You'll also get a download code for a special 3DS theme.
A 9,980 yen "Original Game Sound" limited edition will also be available. It includes:
The Original Game Sound Edition – Includes a feature that lets you switch between the music used in the regular edition and music from the original works. The original music excluded, this version features more than 60 songs.
Adventure of Valkyrie: Legend of the Key of Time with Xiamou download code – A special edition of the Namco Anthology 2 game, now with playable Xiamou.
"Namco X Capcom 10th Anniversary Resource" three-sided package illustratred by Takuji Kawano
"Namco X Capcom 10th Anniversary Resource" Special 3DS theme
Famitsu also details the game's new "Mirage Cancel" feature. If you press the B button during a normal attack, you can suspend that attack, enter slow motion (pair units excluded), and from there, aim for an easy critical hit during the next attack.
Project X Zone 2 is due out this fall in North America and Europe.
Thanks, Hachima Kikou.