Tencent Games bringing Infinity Blade to Xbox One?
Chinese mega-company launches teaser site.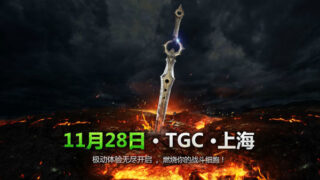 Tencent Games has launched a new teaser site at its QQ.com domain.
The URL for the teaser site is X1.QQ.com, and the page is titled "Tencent's First TV-based 3D somatosensory game." Upon initial load, the screen shows a giant green X, followed by a trio of images showing guys and gals breaking their TV sets with imaginary swords. Finally, you see the above image.
According to information obtained by A9VG, this teaser site is for none other than an Xbox One version of Epic Games' Infinity Blade. Of course, given that Tencent has yet to officially announce this, we cannot take it as confirmed. But given the imagery and Tencent's relationship with Epic Games, it seems possible.
We'll find out what it is for sure this Friday, November 28 during the Tencent Games Carnival in Shanghai. Stay tuned.