Open Forum #117
Open, off-topic discussion.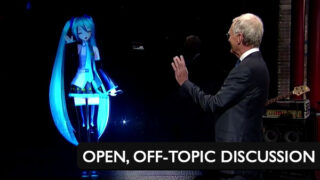 Welcome to the Open Forum.
The Open Forum is your domain for anything and everything. Whatever you feel is inappropriate to discuss in other threads, you can discuss here. Want to talk about the news? You're in the right place. Have a random question? Ask it here. Want to poll the community? Do it here. The Open Forum is what you make it.
Discuss away.
(Image: Vocaloid star Hatsune Miku was the first virtual pop star to perform on late night TV on the Late Show with David Letterman this week. Watch here.)