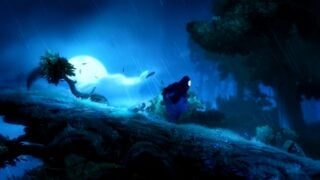 Microsoft and Moon Studios released a 10-minute walkthrough of Ori and the Blind Forest's "Prologue" and "Sunken Glades" levels at the Tokyo Game Show in Chiba.
In the prologue, players learn Ori was separated from the Spirit Tree during a great storm, and is found by the gentle and nurturing Naru, who quickly becomes a guardian to the orphan in the Forest of Nibel. But late one night, Ori awakes to the Spirit Tree calling out to him. But when Ori doesn't answer, the tree erupts with light and its power soon fades. Without the life energy of the great tree, the forest soon begins to die.
Watch the video below. View a new set of screenshots at the gallery. The game is due out for Xbox One and PC later this year.