Phantasy Star Nova still planned for 2014, new details
Here's our first update on the game in over nine months.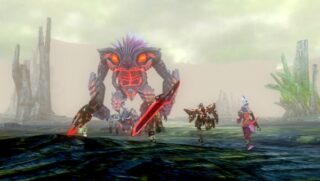 Famitsu this week has its first report on Sega's upcoming PS Vita title Phantasy Star Nova in over nine months.
The game is still planned for release in Japan this year, and will support up to four-player multiplayer via ad-hoc play. Its graphics are said to have been redone from scratch.
Today's new information starts with character voice actors:
Lutia (Human) – voiced Maaya Uchida
Seil (Human) – voiced by Yoshitsugu Matsuoka
Izuna (Newman) – voiced by Ai Kayano
Phildia (Human) – voiced by Miyuki Sawashiro
Magnus (Newman) – voiced by Banjo Ginga
The game's atmosphere is described as evoking a similar feeling to the first Phantasy Star Online.
Having crash-landed on the uncivilized Planet Machia, the game is based around the concept of survival. Everything you use, including weapons, armor, and recovery items, must be prepared by the player. That said, it's possible for players' costumes to be torn and equipment can be damaged.
Players will start the game with almost no amenities, but from there can choose which amenities to enable as you progress.
Almost all of the things you could create in Phantasy Star Online can be remade in Phantasy Star Nova, this time with an added feeling of realness. If certain conditions are met, players can also change up the design.
The world of Phantasy Star Nova is based on that of Phantasy Star Online: Episode 1. The races and classes from Episode 2 will not make an appearance.
The battle system is said to be considerably different from Phantasy Star Online 2. Inexperienced players should more easily be able to enjoy the game's story.
Our next update will come at Phantasy Star Kanshasai 2014, which is set for June 15.
Thanks, Re: Zaregoto and [email protected].