New Deep Down footage shown on PS4 Lab
Only four weapons available initially, Capcom says.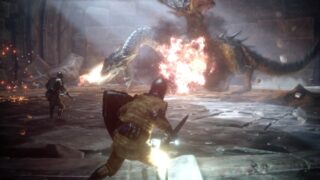 Deep Down, Capcom's upcoming PlayStation 4 free-to-play RPG, was featured on the latest episode of Sony Computer Entertainment Japan Asia's PS4 Lab web series.
Gamekana recorded the stream, as well as some notable bullet points:
Capcom currently can't comment on the status of the beta test.
You will be able to evade with triangle (though this was not clear by the person who was explaining it).
Players can only be male, for story purposes.
They're thinking about supporting the PlayStation 4 Share function.
Multiplayer supports four players.
You will have four weapons available initially (more will be added via updates).
PS Vita remote play is supported.
Watch the videos below.
https://www.youtube.com/watch?v=rc4k1CxJt5Y
https://www.youtube.com/watch?v=K0X2rZc1-5E