Japanese developers share aspirations for 2014
Featuring Fumito Ueda, Ryoei Mikage, Akihiro Hino, and more.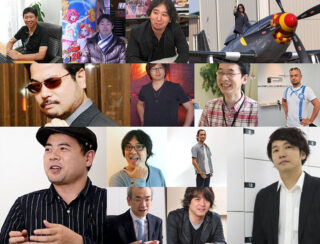 4Gamer.net recently sat down with 151 game developers to discuss their favorite games of 2013 and aspirations for 2014. We skimmed through its entirety and picked out the most interesting of their comments.
Issen Yamai (Atlus Director)
Favorite games: Grand Theft Auto V and Pokopan
I think 2014 will be a year of preparation for the Maniax team and I. We're working here and there on the next title. You won't be hearing from us for a while, you might think we left office or died. (Laughs)
Shinichi Kamoeka (Brownies President and CEO)
Favorite game: Yokai Watch
Brownies has one title currently in development that has an epic air about it and we're aiming to release it this year, so expect that! In that corner we plan on putting out little bits of interesting content, so please keep your eyes out on the official Facebook, Twitter, etc.
Tsuyoshi Yamazaki (Capcom Director)
Favorite game: Beyond: Two Souls
I'm relieved we were able to release Ace Attorney 5 in 2013. Right now we are putting all our power into starting the next title. It's only just starting, but we're thinking of various interesting things, so look forward to it. Everyone, have a good New Year!
Kazuma Hayashi (Examu Director)
Favorite game: Kantai Collection
Next year, we hope to release a consumer version of Arcana Hart 3: Love Max!!!!! We hope all of our fans will look forward to it.
Manabu Yamana (Genius Sorority President / Game Designer / Director)
Favorite game: Minna no Oshaberi Chat
In 2014, we hope to release several new software. I can't divulge the title yet, but content wise it looks like it'll be fairly challenging. Thank you in advance.
Ryoei Mikage (Imageepoch CEO)
Favorite game: Brave Frontier
The Nintendo 3DS version of Toushin Toshi goes on sale on January 30th, 2014. After that comes the release of SoniPro for Nintendo 3DS, and then an original SRPG we plan on releasing as Imageepoch's 10 anniversary title. The original RPG Luminous Arc was Imageepoch's development debut. We've reached our 10 year mark as a company and we feel we should return to our origins by developing great quality SRPGs. Please look forward to Toushin Toshi, SoniPro, and our original SRPG!
Akihiro Hino (Level-5 Boss)
Favorite game: Final Fantasy XIV: A Realm Reborn
In general, I would like to consider new things. Like smartphone games, a reinvention of Professor Layton, Inazuma Eleven, etc. The consumer game industry is sluggish, and I feel that "new games" are still needed in the industry. I feel the new titles we create can take users by surprise, so please look forward to them.
Katsuhiro Harada (Namco Bandai Production Chief / Chief Producer / Director)
Favorite game: Payday 2
Tekken is my lifework so I won't go on about it here, but including the title announced in 2013, we are going to be working on Tekken as well as several other titles. Among those I want to put out at least two this year for sure. Otherwise there titles being worked on behind the scenes as well as related titles, so 2014 looks like it'll be busy. When I'm having a rough time with ideas or get a creative block maybe I'll turn to the Twitter followers for help.
Yusuke Tomizawa (Namco Bandai Producer)
Favorite game: Dragon's Crown
This year I hope to make progress on the previously mentioned new plans, including with the God Eater series. I also have an idea for a completely new title, so I'd like to see that come to fruition as well.
Takehisa Matsuda (NIS Director)
Favorite game: Final Fantasy XIV: A Realm Reborn
We're still working on a new Disgaea in 2014 so I hope Disgaea fans are excited! And for people who aren't fans yet, we're developing the series for each hardware system, so please wait until you become a fan!
Hideki Kamiya (PlatinumGames)
Favorite game: 3D After Burner II
We saw one project completed right about the middle of 2013, and then new projects started one after another. It was that kind of year.
Keiichiro Toyama (SCE Creative Director)
Favorite game: Chain Chronicle
The team working on the next title [Gravity Rush sequel?] has finally been organized and progress is coming along exceedingly well. It looks like 2014 will be a year where we immerse ourselves into our work, but we must live up to everyone's expectations, so we'll do our best at any rate!
Masami Yamamoto (SCE External Development Group Head)
Favorite game: Pakopan
In order to appeal the broadened Vita market to younger consumers, we're planning development on Freedom Wars, a new large scale IP. We also still plan on investing in regular F2P titles like Destiny of Spirits. Of course we're preparing a big title for PS4 as well, so please look forward to it!
Sato Kazunobu (SCE Senior Game Designer)
Favorite game: The Last of Us
PlayStation 4 will finally release in Japan in 2014. I got the feeling that many Japanese fans haven't had a chance to touch one yet, so let me just say this: the DualShock 4 controller is amazing and easy to hold! I am taking part in the development of PS4 titles myself so you can trust me. I'm very pleased with it, I think it's a device that gamers will enjoy for many years to come. By all means, try it for yourself.
Akitoshi Kawazu (Square Enix Producer and Designer)
Favorite game: Final Fantasy XIV: A Realm Reborn
December 2014 will be the anniversary for the SaGa series. We have various efforts being prepared for that. We're still figuring out things out, but look out for an concrete announcement hereafter. Thanks until then!
Tomonobu Itagaki (Valhalla Game Studios Producer and CTO)
Favorite game: Earth Defense Force 2025
Next year is the year we launch Devil's Third to households. It is currently 80 percent complete. It appears finished. But from here, there's still some way to go as we polish it up. And it's for that reason that I became independent. To our fans, I apologize for making you worry. A lot is going to happen next year, so please look forward to it.
Fumito Ueda (Freelance Game Designer, The Last Guardian)
Favorite game: Clumsy Ninja
If I can, I hope to provide an update as soon as possible, somehow or another.