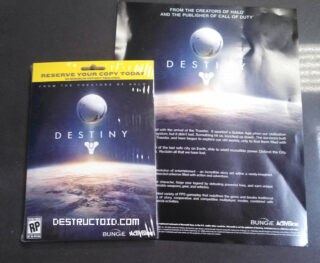 Leaked pre-order materials for Destiny, Bungie and Activision's new game set to be unveiled on Sunday, have revealed story and gameplay details ahead of the upcoming announcement.
A Best Buy pre-order card obtained by Destructoid reads the following:
From the creators of Halo and the publisher of Call of Duty

Everything changed with the arrival of the Traveler. It sparked a Golden Age when our civilization spanned our solar system, but it didn't last. Something hit us, knocked us down. The survivors built a city beneath the Traveler, and have begun to explore old worlds, only to find them filled with deadly foes.

You are a Guardian of the last safe city on Earth, able to wield incredible power. Defend the city. Defeat our enemies. Reclaim all that we've lost.

Be brave.

Key Features:

The next evolution of entertainment – an incredible story set within a newly-imagined, always-connected universe filled with action and adventure.
Create your character, forge your legend by defeating powerful foes, and earn unique and customizable weapons, gear, and vehicles.
Unprecedented variety of FPS gameplay that redefines the genre and breaks traditional conventions of story, cooperative, and competitive multiplayer modes, combined with public and social activities.
Joystiq has obtained shots of a double-sided poster available as a pre-order bonus for Destiny at GameStop. Pre-orders will begin Monday, meaning Sunday's announcement will include platforms.
Additionally, French retailer Micromania has listed the title, complete with box art and description, for an October 6 release on PlayStation 3 and Xbox 360.
Stay tuned. The official announcement arrives Sunday.