Ouya developer consoles shipped
First look at what the final UI might look like.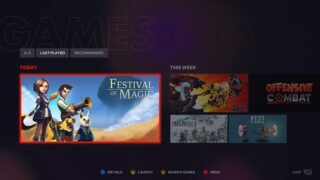 Some 1,200 Ouya developer consoles have been shipped, Ouya founder Julie Uhrman has announced. The kit includes a welcome letter, transparent console and controllers, batteries, HDMI cable, micro-USB cable, and power adapter packaged in a "Thanks for Believing," Jet-black box.
The consoles are still a "work in process," according to Uhrman. "We know the d-pad and triggers on the controller still need work," she said. "The ifnal version will be different." There will also be plenty of bugs, she warns. Developers can help tackle each by reporting them on the newly opened Ouya developer portal (the ODK is also now available for download, there are also instructions on the site on how to get started making Ouya games without a dev console).
The developer console also features an "early early early" version of what the final console user interface will look like. Uhrman's provided a screenshot of what "it might" look like when the system fully launched in March.