Ouya Kickstarter closes at $8.58 million
Ouya web portal launched. Taking pre-orders.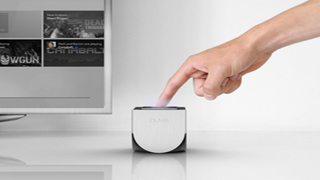 Ouya closed its Kickstarter campaign today with $8,584,466 raised from 63,308 backers. It exceeded its intial $950,000 goal by 903 percent. 
Console manufacturer Boxer8 have since launched an official Ouya web portal, separate from the project's Kickstarter blog, accessible at Ouya.tv. The site currently contains the Kickstarter pitch video, a form to receive e-mail updates, and the option to pre-order a console. If you choose to pre-order, you will receive your Ouya in April 2013. If you pledged support for Ouya via Kickstarter and chose one of the options that included the Ouya console as a reward, you will still receive your unit in March.
Ouya promises to crack open the TV set, or what it describes as "the last closed platform." It will enable independent developers to easily create high-definition television games, and grant hackers the freedom to make the box their own. The system will run on Android 4.0 and boast a Tegra3 quad-core processor, one gigabyte of RAM, eight gigabytes of internal flash storage, an HDMI connection supporting up to 1080p resolution, WiFi 802.11, Bluetooth LE 4.0, USB 2.0, ethernet, and support up to four wireless controllers.
Square Enix is bringing Final Fantasy III to Ouya. Robotoki is bringing a Human Element episodic prequel. Cliffhanger is bringing Shadowrun Online. Namco Bandai is currently in "active discussion" to bring its franchises to the system. And great looking indie games, such as Rival Threads: Last Class Heroes and Other Brothers, are on the way, as well.
Be on the look out.