OnLive coming to Ouya
Hundreds of games streamed to your TV.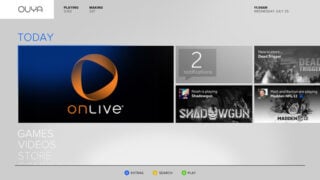 Cloud gaming service OnLive is coming to Ouya, the new $99 Anrdoid-powered game console everyone's talking about.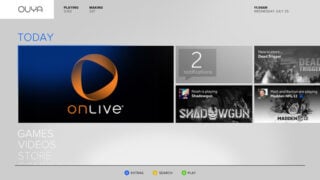 OnLive will offer Ouya players "hundreds of playable titles" from more than 80 publishers, streamed right to your television set. These games can be accessed across Ouya, and "on the go" via "PCs, Macs, tablets and phones." Demos will be available for "every game" in the OnLive library, allowing players to experience "up to 30 minutes of each game" before deciding whether or not they'd like to make a purchase. The app will be available on day one when the console launches next year.
"Ouya is rethinking the console business, making waves by using standard technology to make gaming for your living room accessible, affordable and more innovative than ever," said OnLive general manager Bruce Grove. "In OnLive's case, we pioneered a groundbreaking, cloud-based system that instantly delivers games to any device on demand."
Separate from the OnLive news, the latest images of the Ouya console and controller have been posted. See them below.