Sal's Blog: I'm at PAX East
Come find me. I dare you.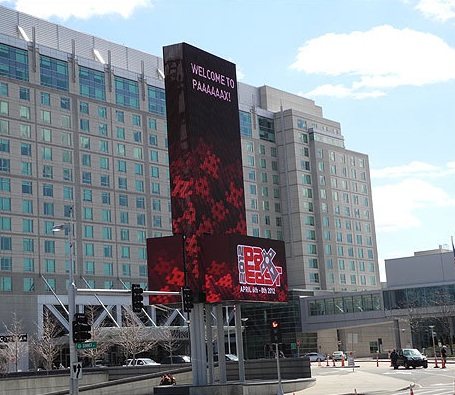 I'm currently sitting at a desk inside the lobby of the Westin Boston Hotel, across from the convention center where in two hours, the second day of the eastern Penny Arcade Expo will be underway.
That said, I'm much too snug and comfy to go outside and take a picture of the building myself. The photo you see on the right there is from Boston.com.
Leave me alone, I'm not moving.
As I sit, I'm seeing gamers big and small, epic beard and five o' clock shadows alike, circle back and forth. Outside the convention center is a huge entry line. Much bigger than I remember it being last year, I'm sure.
I came here for two days last year. I thought our coverage was 'meh.' Sometimes I set out to bring the site something great, and end up failing miserably. I apologize for that. I also had Matt with me last year. This year, I'm here alone, for one day. Easter is tomorrow and I'll be going to visit family to celebrate. I leave Boston tonight, even though I only just arrived at 4:45 a.m.. And what a terrible morning it was.
The plan was to arrive, head to the Dunkin Donuts across from the South Station bus terminal, get some breakfast, and put the rest of what I needed to together. Instead, I was greeted to wind chills (I was super cold for some reason – I don't think it was as cold as I'd thought it was) and a Dunkin Donuts that opened at 7 a.m. I'd forgotten I wasn't in New York. Stores aren't open 24 hours here.
But alas, 7 a.m. arrived and a tasty bacon and egg on a multigrain bagel calmed my hunger. French vanilla coffee woke me up a bit. I must have only slept for about four hours. The bus ride was a tad uncomfortable.
But here I am now, sitting in a hotel – relaxing – waiting for the show to kick off. I'm not sure how much coverage we're getting from the show floor, but I can tell you we'll be interviewing the producer and lead director on XCOM: Enemy Unknown, as well as a little someone called Suda 51.
Whatever else I can get, I'll bring it to you. Enjoy your Saturday. And for those of you celebrating Easter tomorrow, I wish you all a wonderful holiday. And for those of you not celebrating, enjoy the lazy Sunday.