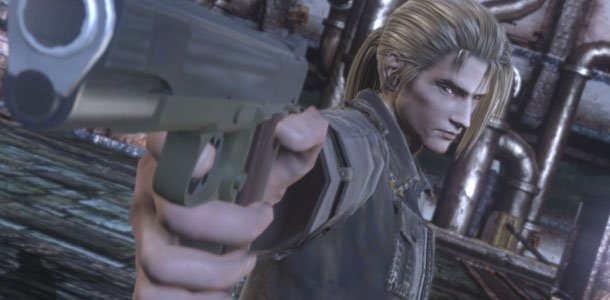 Resonance of Fate is set on a future Earth with a floor polluted by toxic gases. Now population is forced to live in a mechanized tower known as Basel if they want to remain in harmony. However, as the machine starts to break, monsters begin to awake.
Zephyr, Vashyron and Leanne make up the game's main three. Leanne may sound bit unfamiliar mainly because she's known as Reanbell in the Japanese version of the game; they're the same chick. As in most role-playing games, the player can gain missions from a job board in a hub-town, rest up in the inn, purchase items and clothing in the town, etc.
The game's leveling system is where it's difference shines. Character levels are determined by the value of their skill in pistols, machine guns and grenades, rather than the traditional Japanese role-playing game level system. If a player continues to use a pistol in battle, they will gain more experience with pistols, increasing their health, defense, strength and other attributes in different ways depending on what weapons they choose.
The battle system's turn-based, but real-time at the same time. Your characters won't get attacked until you make a direct move towards an enemy. There are two types of damage that can be dealt to an enemy, either direct damage or scratch. Direct damage takes away enemies health points permantenly, but can be low in the amount dealt. Scratch does more damage, but enemies can heal up over time as the battle continues. However, if direct damage is done after scratch and the enemy isn't fully healed, the scratch damage will all be converted into direct damage paving way for a variety of combo movies and strategies.
Resonance of Fate sounds like it's shaping up to be one of the more definitive role-playing games of this generation. Look out for its release on PS3 and Xbox 360 in Spring 2010.
Thanks, IGN.