BioShock Information from EGM July 2008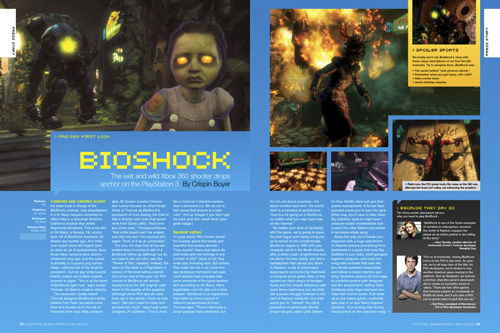 – The graphics are the same as the Xbox 360 version of the game, although they may possibly notch it up a bit but it is still unknown.- The game will feature the Plasmid and fixes given to the Xbox 360 version via downloadable content right out of the box.

– The development team does admit that they are working with Sony to potentially "extend and augment the game" but it is too early to talk about it.

– The development team says "whatever we end up with via our discussions with Sony, coupled with the fact that BioShock allows you to go through and roll your own shooter in the first place…these two factors together would turn into a motive for replay." That being if you already had the Xbox 360 version of the game.

– The rest is them talking about the actual game and story and big developers like Ted Price from Insomniac Games weigh in on the title.
Thats all this issue of Electronic Gaming Monthly gives us. Perhaps new information will come when the press release is issued.
[NeoGAF]